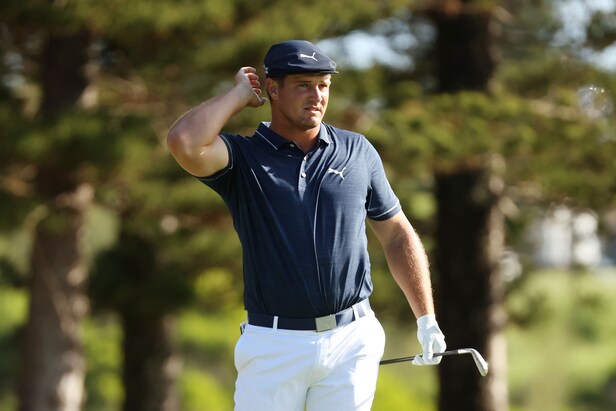 Bryson DeChambeau blames a fall, not speed and strength training, for injuries | Golf News and Tour Information
Bryson DeChambeau took to social media on Saturday to challenge the notion that his recent injuries are the byproduct of speed and strength training.
DeChambeau was a mid-tournament WD at this week's Saudi International with what tournament officials said were injuries to his left hand and left hip. It came a week after DeChambeau was seen nursing his left wrist and occasionally reaching for his back during the second round of the Farmers Insurance Open in Torrey Pines, where he missed the cut at once. DeChambeau also withdrew from the Sony Open in January due to wrist pain. The developments have spurred speculation that DeChambeau's highly publicized distance pursuit could have a negative effect on his health.
However, DeChambeau denied those concerns in a lengthy Instagram post, writing, "Everyone needs to relax.
"Yes, I hurt myself but not from hitting him far," DeChambeau wrote. "I slipped and fell this week on Tuesday unfortunately. I know people probably won't believe me, but it's the truth. I'll be back stronger and better than ever in a few weeks. Thanks for the hospitality [Saudi International]. Thank you for your concerns and keep hitting bombs. I'll be back …"
DeChambeau's physical overhaul began in earnest in the fall of 2019. It transformed the former U.S. amateur and NCAA champion into one of the longest hitters in the game and led to four World Cup wins, highlighted by his triumph at the US Open 2020 at Winged Foot. But DeChambeau is coming off a tumultuous season both on and off the course, with DeChambeau admitting last December that he was considering stepping away from professional play.
It's unclear when DeChambeau could return. On his personal website, his schedule has not been updated for some time, with the aforementioned Sony Open being the latest tournament listed. The Arnold Palmer Invitational, which DeChambeau won last season, is a month away, with the Players Championship set to begin on March 10.