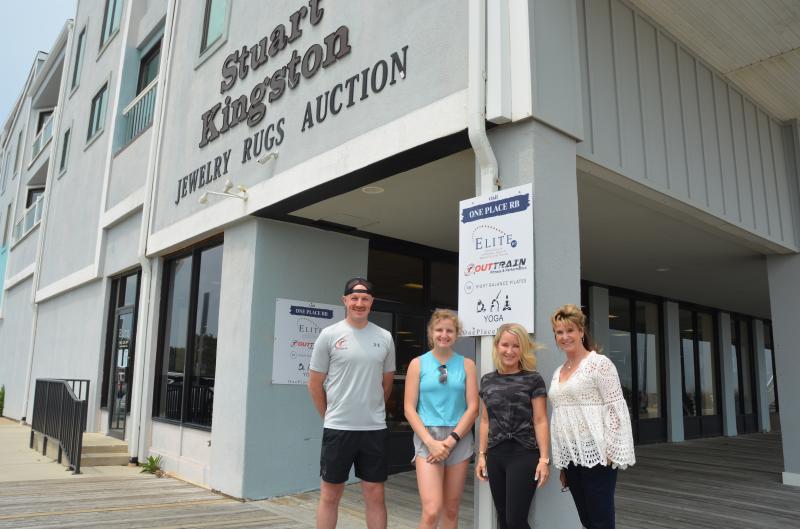 One Place Rehoboth is a one-stop-shop for fitness
Seeking to transform their respective businesses into a one-stop-shop for athletes looking to excel and those interested in maintaining functional movement, OutTrain Fitness & Performance, Elite PT and Right Balance Pilates have partnered to open a studio on the Rehoboth Boardwalk Beach.
In the former space of the Stuart Kingston Gallery, the trio of fitness companies will operate as One Place Rehoboth.
Elite PT owner Amelia Knarr said her business had been located directly next to the new studio since 2009. Knarr said that when she was approached to rent the gallery space, she had second thoughts in because of its size. At 5,700 square feet, the gallery more than doubles the space, she said.
Doubts faded when she was able to get OutTrain Fitness & Performance and Right Balance Pilates as roommates.
OutTrain Fitness & Performance is a relatively new outfit from co-owners Mike Sager and Megan Weber. They opened their first space in Harbeson in September 2020. In addition to the new Rehoboth space, the duo will soon be opening a third location in Maryland.
"It's been a lot of hard work, but we've been blessed," said Sager, adding that they will continue to focus on transforming athletes of all levels into the best versions of themselves.
Carin Langen, owner of Right Balance Pilates, said her studio focuses on equipment-based Pilates. She also has studios in Lewes and Bethany.
Langen said his services help bridge the gap between physical therapy and physical training. It's really nice to be able to be part of a full circle of options, she said.
One Place Rehoboth's hours of operation will generally follow Elite PT hours, which are 7 a.m. to 7 p.m., Monday through Friday, and 8 a.m. to noon, Saturday. However, all three, especially OutTrain Fitness & Performance and Right Balance Pilates, will be available for personalized training appointments.
The scheduled opening date for One Place Rehoboth, 1 Grenoble Place, is Wednesday, June 1. For more information, visit oneplacerb.com or call 302-226-2691. There is a link and contact information for each company under this website.